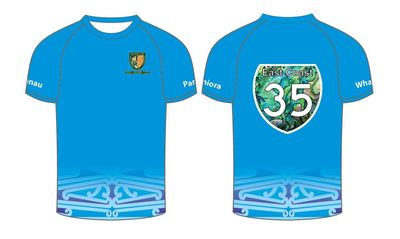 Manuel Jose Aotearoa - Custom Sublimated Tee Shirt
$55.00
Manuel Jose Custom Sublimated Tee Shirt with chest print, sleeve text and back print.
Tee Shirt costs - $55 for adult sizes and $53 for kids sizes
'The artwork located at the base of this shirt has been designed and gifted to us by Tony Greig - husband of our Manuel Jose' whanaunga Melissa Greig.
The combined design of the puhoro and koiri symbolises the merging waters and lands of Manuel Jose' descendants of Val Verde del Majano and Aotearoa - who have forged forward, growing with resilience throughout the generations.'
PLEASE NOTE: This tee will only be produced when more than 10 tees have been ordered - so once 10 tee orders have been received only then will they be sent off to the factory to be created. So there may be a delay from the time an order is placed to when the garments are produced and ultimately delivered.
Production time: about 4-6 weeks once the order of at least 10 tees has been placed.
Should you wish to collect and avoid shipping costs being incurred - choose North Island - pick up in store.
Fabric: 100% Polyester
Weight: 130 g/m2
Mens Sizes: XS, S, M, L, XL, 2XL, 3XL, 4XL, 5XL
Ladies Sizes: 8, 10, 12, 14, 16, 18, 20, 22, 24
Also Kids/Youth sizes available: K4, K6, K8, K10, K12, K14
See size charts as required in additional information.
SKU: 10176-1-1-1-1-1